Ancestors and Descendants
1800s - Present
Unfortunately, I have neither photos nor memories of my father's ancestors. My grandfather, George W. Hildreth died in 1877, 46 years before I was born and Grandmother Elvira died in 1881. It seems that pictures of them and any of their direct ancestors do not exist and, to my regret, we have very few pictures of my father and none taken of him and me together. Either he was busy taking the pictures or he was not present when pictures were being taken. Fortunately, we have a considerable number of photos of my mother at various ages from the 1880s to 1970 and also there were photos of some of her ancestors which have been passed on to me. The pictures in the latter part of the 19th century and the early years of the 20th century were taken by professional photographers and the subjects were posed in very formal and stiff fashion. Amateur photography wasn't possible or popular until after 1889 when George Eastman invented roll film and cameras that were simple to operate came into being. My hope is, that among those of you who may view these photos, some of you will be prompted, for nostalgic or other reasons, to search for photos of your family and present them as a historical record to be observed, enjoyed and preserved by your descendants.
Mother's Paternal Family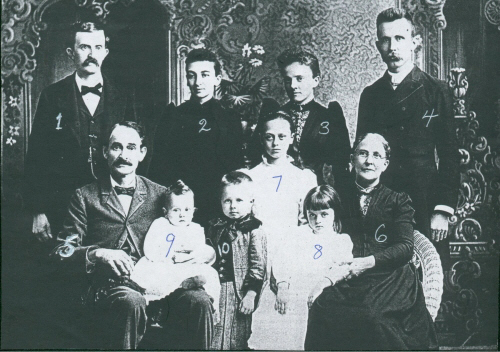 My Mother-to-Be, Mary Adams
With Sibs and Paternal Family
7. Mary Adams; 1 Grandfather, Fred Eugene Adams; 2 Grandmother Lizzie Moors Adams; 5 Great-grandfather Alphonso Adams and 6 Great grandmother Mary Rider Adams (2nd wife of Alphonso); 3 Fred's sister Lilla and 4 her husband Will Hardy; 8 Mary's sister Elgie Adams; 9 Mary's brother Carroll Sidney Adams; 10 Child of Lilla and Will Hardy.
Alphonso A. Adams born in Jaffrey, NH on November 13,1834 and moved to Marlborough, NH in1854. He married on January 22, 1857 Mary E. Cutter, daughter of John A. and Nancy (Wheelock) Cutter. They had two children, Fred E. (my grandfather) and Lilla.

Alphonso was a Civil War veteran and was wounded while serving as a member of Company C, 14th regimentNew Hampshire Volunteers. The only belonging of his that I possess is the cane given to him upon discharge from the hospital after he was wounded. He was a civic-minded individual having been elected to the school board in 1882 and in 1883 was elected as Selectman of Marlborough, NH (population probably 1,200-1,500 at that time). Selectmen were and, as of this writing, still arethe equivalent of City Council members in larger cities.

Alphonso also was a carpenter and built many of the houses in Marlborough as well as the TOWN HALL and the SCHOOLHOUSE (pictured to the left) in the 1870s or 80s. This is the school that my 4 sibs and I attended, Claire being the oldest started in 1910 and I was in the class of 1941.

Two of my nieces also attended here graduating in1943 and 45. My sibs went from 1st grade through high school in the building and my class was the first to begin with the 2nd grade. Graduating classes normally had 20-30students but mine had only 10. Eventually, several area high schools consolidated and a large high school was built. A new school was built for grades one through eight after which the old school building was converted to an apartment building.
The TOWN HALL was similar to the HIGHSCHOOL being of frame structure with clapboard siding. As in many small towns, it was built as a multifunctional facility. On the 1st floor it had a grocery store and a meat market. A central stairwell between the two stores lead up to a lobby with an office for Selectmen on one side and stairs leading to the third floor Grange Hall on the other side. The rest of the floor to the rear of the building was dedicated to an auditorium which was multifunctional serving as a theater, silent movie theater, dance hall, Town Meeting Room, donkey basketball court and basketball court for our high school basketball teams. The court was not regulation size and had out-of-bounds lanes about only a foot wide. At one end was the stage and frequently one going in for a lay-up basket might land on the stage. At the other end swinging doors opened onto the lobby so occasionally one of us charging in to make a basket might run out the doors into the lobby. At times it would take a while for the player to return. Also, the game was different. There was a jump ball after every basket and four 8 min. quarters so the scores were usually in the 30s or 40s. And, girls basketball! They could only play half-court games, not being permitted to cross the center line. Therefore, there were six players per team - a center and two forwards who were allowed to score and three guards trying to keep the opponent forwards and center from scoring. Thus, there were always six players on either side of the center line, six playing and six not. Strange!
An Ongoing Project ... Visit Again Soon!
Page Updated: 09OCT00
Philip E. Hildreth